So one of the things that I've learned over the last few months is that there are a lot of writers out here on the internet. Twitter seems particularly full of them. The flash fiction challenges at terribleminds.com are great a great way to meet a small slice of this great population of authors and I do try my best to read and comment on as many of the challenge takers' entries as possible – though I've been a little lax in this the last few weeks.
During these explorations of my fellow writers' webplaces I started noticing that there is a community of them who just love flash fiction and micro fiction. They love it so much they've started little weekly micro-fiction writing contests. For example there are: #MenageMondays hosted over at "Defantly Literate" ( http://www.caramichaels.com ), the #55WordChallenge hosted at "Jezri's Nightmares" ( http://www.lisamccourthollar.com/ ) and #ThursThreads hosted at "The Weird, the Wild, & the Wicked" ( http://siobhanmuir.blogspot.kr/ ). There are many more as well.
Most of these contests involve a prompt or choice of prompt given to contest entrants and very small word count limits. Each of them tends to have their own gimmick. #MenageMondays give a combination of three prompts that must all be used in crafting the story. The #55wordchallenge gives three photo prompts that you must pick one of and, obviously, a very small word count. #ThursThreads requires everyone to to use the last sentence of the previous week's winning entry somewhere in your entry for the current week.
Anyway, I've started to join in on the fun in some of these from time to time and in last week's #ThursThreads I took home an honorable mention. Thanks to the kindness of the contests judge for that week, Charles W Jones (@ChuckWesJ / http://bizzarofiction.blogspot.kr/p/books.html) I got an ebook out of the deal. (Circus Tarot)
I also earned the right to display this badge: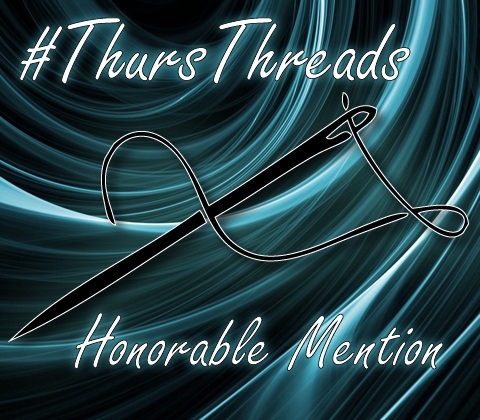 So that's pretty cool. You can read all the entries for last week here. My entry was this:
The Choice
The doctor's eyes were the only part of her Mary could see uncovered by surgical garb.
"I'm sorry. I know it's not a lot of time, but you need to decide," she said.
The doctor sounded sincere, but also distant. Mary wondered if she'd had to say this before. Looking at the young nurse holding the two clipboards Mary could tell he wasn't as experienced. In fact, he looked like he'd change places with just about anyone who wasn't her, her husband or the doctor right about then. He looked like he wanted to cry. Crazily, Mary wanted to give him a hug and tell him it'd be ok.
Just like a mother might.
Her voice sounded so thick when she heard it and she wasn't sure she would even get all the words out. "I don't want to sound terrible doctor. I. I don't want to be selfish. But, please. Tell me I'm not throwing my life away for nothing. Tell me she'll have a wonderful life."
"I'm sorry Mary. I can't. I'm not God. Anything could happen tomorrow or the day after or the day after that. I can only promise you she'll be born today. If, that's your choice."
A tear rolled down Mary's cheek but she choked back the flow. She had a decision to make.
"Will Paul get to hold her?"
"Yes, I can promise you today."
"Then that's not nothing," Mary said and took the second clipboard to sign her name. "I choose her."
<<>>>
Find more of my flash fiction here.